The biography on Roy Harper provided below comes from the Official Roy Harper site. This web page addition to the Pharaohs Den web library only includes biographical information up to the end of the 70's on Roy Harper, to read about his awards and other fascits of how his musical legacy evolved, follow the link below to get the full story on Roy Harper.

www.royharper.co.uk

Roy Harper

Early Life

Harper was born in the Manchester suburb of Rusholme, England. Following the death of his mother a few weeks after his birth, he lived in Manchester for a few years before the family moved to Lytham St. Annes. He was raised by his father and step-mother, whose Jehovah's Witness beliefs eventually alienated him. Harper's anti-religious views would later become a familiar theme in his music. At the age of 10, he began playing skiffle music with his younger brother, David Harper, as well as being influenced by blues music, jazz and classical. Leaving school when he was 15, he joined the Royal Air Force only to reject its rigid discipline. He managed to feign madness in order to get a discharge. Harper then busked around Europe until 1964 when he returned to England and gained a residency at London's famous Les Cousins folk club in Soho.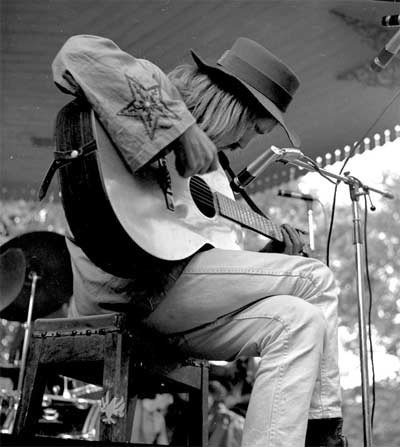 The Sixties

His first album, 'The Sophisticated Beggar', was recorded in 1966 after Harper was spotted at the Les Cousins club and signed to Strike Records. It consisted of his sung poetry backed by acoustic guitar using an echoplex tape machine and other effects. CBS Records saw his potential and hired producer Shel Talmy to arrange 'Come out Fighting Genghis Smith', with the 11 minute track 'Circle', marking a widening of Harper's audience away from contemporary folk. Its intended cover was too controversial for CBS at the time, depicting a new born baby, complete with umbilical cord. Unknown to Harper, CBS changed it to a picture of their artwork director's baby, without including the birth scene Harper had intended. Harper and CBS parted company. The cover art was altered to Harper's satisfaction when he regained control of the recording.




Harper recorded 1968's Folkjokeopus with United Artists. Similar to the previous album, one song, on this occasion 'McGooghan's Blues' was 15 minutes long. In those days artists were required to write 3 minute songs with a chorus coming in no later than 30 seconds. At the time, this was the established requirement for radio play. From May, 1968, Harper was making regular appearances at free concerts in London's Hyde Park attracting a cult following of fans from the underground music scene. Harper's first tour of the United States followed the release of the album Flat Baroque and Berserk in 1969 which featured The Nice on one track called "Hell's Angels". Its ethereal sound was achieved by a wah-wah pedal attached to an acoustic guitar. Flat Baroque and Berserk also marks the beginning of Harper's relationship with EMI records, with 8 of his early albums recorded at the Abbey Road Studios and released on EMI's Harvest label. Harvest was formed in 1969 as a response to the growing emergence of 'underground' or 'progressive music'




The Seventies

After the Bath Festival of 1970, Led Zeppelin wrote a song titled 'Hats Off to (Roy) Harper', which appeared on the album Led Zeppelin III. According to Jimmy Page, the band admired the way Harper stood by his principles and did not sell out to commercial pressures. In a mutual appreciation of their work, Harper would often attend live performances by Led Zeppelin over the subsequent decade as well as contribute sleeve photography to the album Physical Graffiti. He also appears, uncredited, in the 1976 film, The Song Remains the Same.




Harper's 1970 critically acclaimed album was the four song epic, Stormcock, featuring Jimmy Page on guitar (credited as 'S. Flavius Mercurius') and David Bedford's orchestral arrangements. David Bedford would collaborate on future releases. In 1972, Harper made his acting debut playing Mike Preston alongside Carol White in the John Mackenzie film 'Made'. The soundtrack for this film appeared in the following year with the title 'Lifemask'. His next album 'Valentine', was released on Valentine's Day, 14 February 1974 and featured contributions from guitarist Jimmy Page. A concert to mark its release was held at London's Rainbow Theatre with Page, Bedford, Ronnie Lane on bass and Keith Moon on drums. The live album 'Flashes From The Archives Of Oblivion' soon followed.




Between 1975 and 1978, Harper spent considerable time in the United States. Pink Floyd's 1975 release 'Wish You Were' Here saw Harper as lead vocalist on the song 'Have a Cigar'. Floyd's David Gilmour returned the favour by appearing on Harper's next album, 'HQ', along with Harper's occasional backing band called Trigger (Chris Spedding on guitar, Dave Cochran on bass guitar, and Bill Bruford on drums) along with Led Zeppelin's John Paul Jones. The single 'When An Old Cricketer Leaves The Crease', taken from the album, is Harper's biggest selling and best known solo record to date. Harper also co-wrote the song, 'Short and Sweet' with Gilmour for Gilmour's first solo record released in 1978. He performed the song live with Gilmour at least once in the 80s singing the lead vocal.




Controversy followed the release of 1977's Bullinamingvase, with Watford Gap service station objecting to the lyrics in the song 'Watford Gap', which criticised their food ("Watford Gap, Watford Gap / A plate of grease and a load of crap..."). Harper was forced under duress to drop it from future UK copies of the album, though it reappeared on a later CD reissue and remained on the U.S. LP. Bullinamingvase also featured 'One of Those Days in England', with backing vocals by Paul McCartney and Linda McCartney, which became a Top 40 hit. 'Flat Baroque And Berserk', 'Lifemask', 'Valentine', 'Flashes from the Archives Of Oblivion', 'HQ' and 'Bullinamingvase' were all top 20 albums. For much of the seventies, Harper co-produced his records with Peter Jenner, who was also his manager