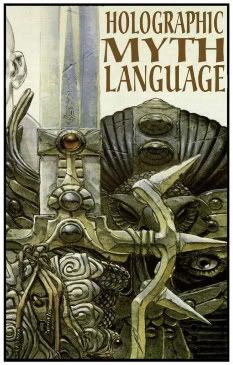 www.myspace.com/holographicmythlanguage

...ancient legend tell us that one day, when the illusion of the SCREEN holds humanity on the brink of self destruction, a band of mystic meta-warriors will emerge wielding the ancient power of the HOLOGRAPHIC MYTH LANGUAGE. witness here, for the first time, as the epic legend unfolds before humanity's ears and the HOLOGRAPHIC MYTH LANGUAGE restores the thought forms of humanity to the long-forgotten harmonic wavelengths...

music has to be the key to the spaceship. words open universes. a gathering of tone-scientific boom-bap neopyramidic spaceship breakbeat sculptors and image-signal telekinetic transmitter navigation wordsmith warriors. the battlefield for the unlimitedness of the human potential is the playground of the imagination. the will of mighty magicians manifests poetic food for the ardent consciousness. who needs history when words appear in synchronization with the landscape of the moment? enter the myth as senses turn inward and life on the other side of the mirror of illusion blossoms in fountains of song.

HOLOGRAPHIC MYTH LANGUAGE is available to all, an open concept. the future of our race depends upon it... how much can YOU imagine to the music?!?

Tonescience by:

TOUCANSTARFLOWER - most of the raps, some beats; and all cuts, instruments, samples, editing, efx, etc

JACK "GORE" WILDER - some beats

DOLPHINBRAIN - some beats

MAJASKULEZ - some raps

OKERASUN - some raps

GILGAMORPH - some raps

THE BROTHERS THOMPSON - some beats

TAWEE KIVA - some raps

INTHENI - some beats and some raps

SOPERIFFICK - some raps


DON'T BE A SLAVE TO A BAD TRUTH!

MYTH-MAGIC HOMEMADE SPACESHIP EQUATIONAL-..ADVENTURE RAPS...

WHAT CAN YOU IMAGINE TO THE MUSIC?!?