Biography on Ustad Bismillah Khan comes from here

Ustad Bismillah Khan was born in a small village in Bihar about 60 years ago. He spent his childhood in the holy city of Varanasi, on the banks of the Ganga, where his uncle was the official shehnai player in the famous Visvanath temple.




It was due to this that Bismillah became inclined for the Shehnai. At an early age, he familiarized himself with various forms of the music of UP, such as Thumri, Chaiti, Kajri, Sawani etc. Later he studied Khayal music and mastered a large number of ragas.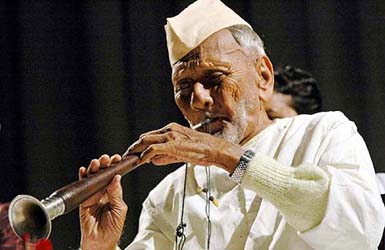 Ever since Ali Akbar Khan and Ravi Shankar introduced Indian music to the West, a number of Indian musicians have been invited to perform abroad. It was therefore hardly surprising that a musician of Bismillah Khan's caliber should be one of them.




The Government of India bestowed on him the title "Padmashri"; later he was further honoured by the title "Padmabhusan", and now the "Padmavibhusan" has been conferred on him. In-spite of being glorified in this manner he remained as modest as ever. When invited for a recording he always came without demur. Ustad Khan sahib has been conferred with "Bharat Ratna" award by the Govt. of India.