http://www.dimeadozen.org/torrents-details.php?id=265107

MAX ROACH "TO THE MAX" Solo Show

Live at New England Repertory Theater in Worcester/MA, 1979-05-28

Concert for an Honorary Doctorate in Music from the New England Conservatory of Music
(Workshop character with playing and talking to tell about his playing style, musical career and experiences and Jazz in general)


Source: SBD>prob. Reel Tape>trade on CDR>EAC Rip (Secure Modus), Flac Frontend, Level 6
Sound: listen to mp3 sample as usual (few hiss)

LINUP:
Max Roach: drums

TRACKS:

CD 1
01. Track01 [5:44]
02. Track02 [4:25]
03. Track03 [29:50]
04. Track04 [3:10]
05. Track05 [8:14]
06. Track06 [5:08]
07. Track07 [3:20]
08. Track08 [3:37]
09. Track09 [4:53]
10. Track10 [6:12]
11. Track11 [4:52]

CD 2
1. Track01 [6:02]
2. Track02 [7:34]


COMPLETE SET!!

ENJOY!!

UPLOADED BY RICOLA
DIME, 04.09.2009

==========================




http://www.dimeadozen.org/torrents-details.php?id=265091

Miles Davis: 1978 Studio Session

March 2, 1978
Columbia Studio B, New York NY


Miles Davis (org); Larry Coryell (g); Masabumi Kikuchi (keyb); George Pavlis (keyb); T.M. Stevens (el-b); Al Foster (d)


1 Miss Last Summer (M. Davis) (take ?)
2 Miss Last Summer (M. Davis) (take ?)
3 Miss Last Summer (M. Davis) (take ?)
4 Miss Last Summer (M. Davis) (take ?)
5 Miss Last Summer (M. Davis) (take ?)
6 Miss Last Summer (M. Davis) (take ?)
7 Miss Last Summer (M. Davis) (take ?)
8 Miss Last Summer (M. Davis) (take ?)


Filler:

June 1981
Village Vanguard, New York NY
Audience recording
Miles Davis with Mel Lewis Big Band


Miles Davis (tpt); Mel Lewis (d); Unknown (other personnel)

9 The Second Race (T. Jones)


cd-r of "Comeback Sessions" vol 1 and vol 2 boot - wav - flac 8


Here you have it, Miles' 1978 session. I disagree with Mr Losin's description of this as "flashy riffs". Although Davis only plays organ, it's a very interesting piece, very "milesian" in character, similar to his mid 70's music. Enjoy!
Check out www.thelastmiles.com for interviews with several of the participans.

=============================




http://www.dimeadozen.org/torrents-details.php?id=265137

John Mayall´s Bluesbreakers Reading Festival, UK 8-67 (Probably The Bluesbreakers´first gig w/Mick Taylor! Nice recording for the time it was made!)

Lineage: 1st Gen. Cass. - Nak. ZX7 Cass.Deck- Pioneer PDR05 CDrecorder-Eac-shn
The original Master tape was recorded with an Uher Report Reel to Reel Deck by 2 Germans who made a trip to Swinging London in August 1967! It´s really sad that no tapes from other tapers surfaced from that period! Luckily these guys recorded in the weeks they were there, some great other tapes, including the here recently posted " Fleetwood Mac´s first Gig"!

Time :32.06

Tracklist:
1 Instrumental
2 I can´t quit you Baby
3 Sonny Boy blow
4 Stand Back Baby
5 Oh Pretty Woman
6 It´s my own Fault
Encore
7 Ridin on the L & N
Lineup:
John Mayall voc,harp,org.guit.
Mick Taylor:guit.
Mick Fleetwood:drums*
John Mc Vie:bass
Chris Mercer:Tenor sax*
Rip Kant:Tenor sax*
*not definetely known, but very likely(see Richard Newman´s Book "JOHN MAYALL Bluesbreaker"

============================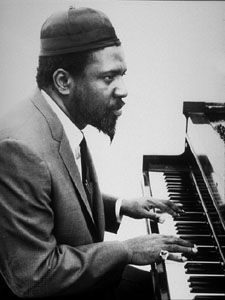 http://www.dimeadozen.org/torrents-details.php?id=265140

Thelonious Monk Amsterdam 1961-04-15 The First European Concert silver

Thelonious Monk
The First European Concert (original silver) Magnetic MRCD 120

Concertgebouw, Amsterdam, Netherlands
1961-04-15

1. Jackie-ing
2. Crepuscle With Nellie
3. off Minor
4. Straight, No Chaser
5. Evidence
6. Bemsha Swing
7. Well You Needn't
8. 'Round Midnight
9. I Mean You


Thelonious Monk - piano
Charlie Rouse - tenor sax
John Ore - bass
Frankie Dunlop - drums


Original artwork included in files.

Lineage: Broadcast?>silver>EAC/FLAC>You

Sound: VG+ (strict) - the ends are washed out but middle is strong, overall clear but not full broadcast strength


This gem appears never to have been posted and there's not much Monk here.
Maybe we can get a mini-flood going?

Though titled "The First European Concert" he did record in Paris in 1954 and I'd assume played some date/s around that? It appears to be the first of many 1960's European concerts though.