The biography below on Agitation Free comes directly from here

AGITATION FREE was one of the leading exponents of German experimental rock music in the early 1970s. Even in the initial phase of its existence, the group had already attained cult status, which was consolidated over the years. Starting in 1967, the Berlin band had begun to develop long and, for its time, very free musical improvisations. They were experimenting in concerts with liquid projectors, slides, and their own experimental films, in ways analogous to the California underground bands Jefferson Airplane and Iron Butterfly. AGITATION FREE soon was counted among the most interesting bands in Berlin, and worked in the avant-garde music scene with composers such as Ladislav Kupkovič, Friedhelm Döhl, Erhard Großkopf, Peter Michael Hamel and John Cage.




The Beat Studio that AGITATION FREE initiated under the direction of Thomas Kessler also developed into the creative center for the Berlin groups ASH RA TEMPEL and TANGERINE DREAM. Early in 1970, AGITATION FREE appeared in the "First German Progressive Pop Festival" at the Berliner Sportpalast. In April 1972, the band – now consisting of Lutz Ulbrich, Michael Günther, Jörg Schwenke, Michael Hoenig and Burghard Rausch – toured Egypt, Lebanon, Cyprus and Greece at the invitation of the Goethe Institute. Manifold impressions from this trip found expression in the first album, Malesch, a fascinating soundweaving of exotic-sounding original recordings from the Near East journey combined with Krautrock – and a forerunner of today's world music.




Many concerts brought the band steadily increasing fame and recognition all over Europe. The group appeared in the cultural program of the Munich summer Olympics in 1972, went on their first French tour for two months early in 1973, appeared in May at the "German Rock Super Concert" in Frankfurt, produced their second album, 2nd – with Stefan Diez (g) – and then went on to tour major European cities with Gustl Lütjens (g). The leading radio stations SFB and WDR broadcast portraits, radio plays and live concerts that featured the group. The band also played venues such as the renowned "Warsaw Autumn" festival.




By the end of 1974, though, the five musical individualists were moving in such different directions that, after a farewell concert, the band broke up. Looking back, it's evident that the AGITATION FREE experimental circle was one of the important bands in the "Berlin School", not to mention its role as a career springboard for many musicians. For example, Christopher Franke helped TANGERINE DREAM to gain worldwide recognition. Axel Genrich went to GURU GURU. Burghard Rausch became a founding member of BEL AMI, now is the drummer for the "Krautrock supergroup" ELECTRIC FAMILY, and has had a career as a music journalist/moderator for radio and TV. Michael Günther became the technical coordinator of the Berlin Jazz Fest. Gustl Lütjens went on to be a sought-after studio musician, toured with SHIRLEY BASSEY, NENA and others, and later found a large audience, primarily in the USA, with his new-age band LIVING MIRRORS. Michael Hoenig worked for a time with KLAUS SCHULZE and TANGERINE DREAM and released a few solo albums before going on to become known in Hollywood as a film composer and a producer of contemporary classical music. He has worked with artists as different as Miles Davis, Phillip Glass, Morton Subotnick, Harold Budd and Jack Nitzsche. Lutz "Lüül" Ulbrich joined ASHRA, worked with VELVET UNDERGROUND singer NICO, produced noted solo albums, music for theater, wrote an autobiography and has celebrated worldwide success since the late 1990s with the 17 HIPPIES.




Fortunate circumstances brought the band back together in its original formation in 1998, nearly 25 years after they had separated, for a spontaneous gig on the stage of Berlin's Tränenpalast. Four of the AGITATION FREE musicians decided to continue to work together, and in summer 1999, the new AGITATION FREE album River Of Return, produced by SPLIFF guitarist Potsch Potschka, was released. Early in 2007, the icons of German rock music, once again in the original line-up, played several wildly acclaimed concerts in Japan. And the members of AGITATION FREE are now lined up alongside Frank Zappa and David Bowie, large as life, to be admired in the Tokyo Tower Wax Museum.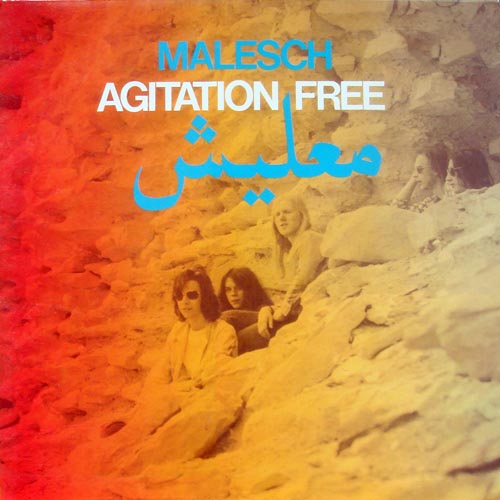 For the first time, SPV is offering the complete series of the band's CDs, after years when mostly bootlegs and fragments were in circulation worldwide, in a version newly mastered and authorized by AGITATION FREE. 
The original albums have been greatly enhanced, both acoustically and graphically, and extensive bonus material, some of it in the form of previously unreleased concert recordings, photos and films, has been added.