The Blues Hall of Fame:
Mississippi Fred Mcdowell
by Dr. Boom
In the spoken introduction to the Capital Blues Collection I Don't Play No Rock 'N' Roll Mississippi Fred Mc Dowell says, " My type of blues, I play it with a bottleneck, you understand, see - rib what come out of a steak." Mississippi Fred later switched to a glass bottleneck because "it get's more clear sound out of it." McDowell is a classic bottleneck slide guitar player that made an impact on this blues lover many years ago. Man this guy can make that "bone" talk.
McDowell is a master of Delta country blues and the slide guitar. In my pilgrimage to discover true slide blues guitar players…it was either Fred McDowell or Furry Lewis who was the first true country blues slide guitar player that I heard…but it was Fred McDowell that captured a sound that has inspired the likes of Bonnie Raitt and the Rolling Stones. His approach is not complex, but it has the feel. Some players can play the notes…Fred not only can play with feeling, but he also plays with that touch. Fred McDowell is the real deal, he was true to his Delta roots and stayed with his path his entire career.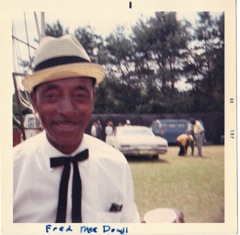 Fred was born in 1904 in Rossville, Tennessee (McDowell didn't mind that they called him Mississippi since he ultimately settled in Mississippi in 1940). In his younger years, during the 1920's, he played for tips in Memphis. Finding that the musician hobo life wasn't for him, he settled down in Mississippi-- farming during the week-- and playing house parties, fish fries, and dances near his home for a few dollars and a little something to drink on the weekends.
It is hard to believe he wasn't recorded until folklorist Alan Lomax discovered him in 1959 and recorded him as a part of the American folk music series on Atlantic. Fred continued farming and playing for tips until Chris Strachwitz went looking for Fred in 1964 and recorded "Fred McDowell. Volume 1 and Volume 2" on Arhoolie (now issued as Mississippi Delta Blues). Things really took off after these recordings.
Fred enjoyed performing dates at coffeehouses, the Newport Folk Festival, and became a member of the American Folk Blues Festival in Europe. The Rolling Stones invited him to Europe and the story goes that they bought him a silver-lame suit that he wore home to Como and was eventually buried in it.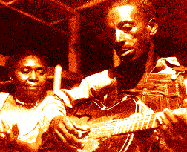 McDowell's covers of "Baby Please Don't Go," "Good Morning Little School Girl," and "Jesus Is On The Mainline" are classic delta style slide guitar classics. I'm sure Ry Cooder was influenced by McDowell's expressive slide playing.
Cub Coda said, "right to the end, the man remained true to his word: he didn't play no rock "n" roll, just straight, natural blues." Man that guy could play some natural slide. Give Bonnie Raitt a listen and you will hear McDowell's influence all over her work.