The article below is sourced from the following site:
www.jazzhouse.org/
Don Cherry
Pocket trumpet, doussn'gouni, percussion, keyboards
Born: November 18, 1936 in Oklahoma City, Oklahoma
Died: October 19, 1995 in Malaga, Spain

World Jazz Spirit
by Howard Mandel
Copyright © 1999 Howard Mandel
When Don Cherry came floating down a street, graceful though gaunt, wood flute at his lips, tooting a song, you'd think he was pure music spirit, kin to the Pied Piper, Pan and Orpheus. On stage and off, he effused harmony through melody and rhythm. How Don Cherry tilted his head, made a face, showed his hand, bent his body and gave voice - or played piano, melodica, the African hunter's harp douss'n guni, and the world's most famous pocket trumpet - sang volumes. Cherry, ever and always, sounded joyful, though his music was by turns wistful, hopeful, lyrical, curious, atmospheric, incisive, brimming with wit and feeling. Though indelibly an improviser, he ranged beyond jazz genres and expanded on its traditions to work in contexts that might be marketed as r&b, rock, or pure pop. He experimented seriously with interactive electronics, and engaged with the most far reaching composers as well as musicians firmly rooted in American, European, African, Caribbean, Latin and South American, Scandinavian, Indian and Middle Eastern cultures.
Cherry died October 19, 1995, of liver failure caused by hepatitis, with his family around him at his stepdaughter Neneh's home in Spain. But he liked to say, "There are only beginnings, there is never an end. Music never stops. It's you who is stopping it. It's you who is ending." His beginnings were in the American west of the great depression; he was born in 1936 to a part-Choctaw Indian family of Oklahoma City. Cherry's grandmother played piano for silent movies and her daughter, Don's mother, played at home. His father owned a music venue before the family moved to the Watts area of Los Angeles, where he became a bartender at the Plantation Club, a bebop hangout. Cherry took up trumpet in his early teens and went to reform school for skipping assigned classes to sit in on a better bandmaster's classes. He jammed with young West Coast tenor saxists Dexter Gordon, Wardell Gray and Harold Land, played piano with Art Farmer's group, idolized Fats Navarro and was mentored by Clifford Brown.
"Clifford told me to be a trumpeter you have to be in shape, like an athelete," Cherry said. He was tall and lean, with fine features, naturally a dancer. But Cherry did not take care of himself like an athelete. Cherry's earliest band was The Jazz Messiahs with drummer Billy Higgins, a lifelong associate. His first front-line partner was Texas tenorist James Clay, though they didn't record until Art Deco, in the '90s. Don said, "Clay can play a ballad to make you cry," and he knew from personal experience; he worked with all the formative saxophonists of the '60s - starting with John Coltrane, Sonny Rollins, Albert Ayler, Steve Lacy, Pharoah Sanders, Archie Shepp - and in orchestral settings, intimate acoustic groups and standard combos. But his epochal meetings were in pianoless quartet with Ornette Coleman and drummer Edward Blackwell and bassist Charlie Haden. If you haven't ever heard their records, immediately stop reading to listen to anything you can find from Ornette's '58 debut Something Else! through his early '60s Atlantic dates (complete on Beauty Is A Rare Thing, a great CD box set from Rhino Records) to the quartet's reunion on In All Languages of '87.
Ornette Coleman is a unique and idiosyncratic genius of free music, but Don Cherry was Coleman's equal, brilliantly shadowing, responding, counterposing and quipping with Coleman each step of a creative and enduring, if as yet incompletely articulated, way. Cherry subscribed to Ornette's theory of harmolodics, and was indeed its chief proponent, since not even Ornette enjoyed more diverse, fruitful collaborations than Cherry. Beyond being the most attentive, fluid, flexible sideman, Cherry was a great bandleader, as when he convened the international group in Paris that recorded marvelously tuneful and syncopated Complete Communion (with Blackwell, saxist Gato Barbieri and bassist Henry Grimes), then the even richer Symphony For Improvisers (adding bassist J.-F. Jenny Clarke, vibist-pianist Karl Berger and Pharoah Sanders, notably on picollo).
"Those records," Cherry recalled one afternoon in fall '89, idling on a Manhattan park bench, "were the first I composed out of my concept that we live in a time where we have the knowledge, like remote control, to change from station to station. It's like life - you go around a corner and there's another life beginning, another whole environment. "The form of jazz where you had the composition, then the sax solo, trumpet solo, piano solo, drum solo, then trade fours - that concept doesn't open up for surprises. And surprise is, to me, one of the most important things in life, for inspiration. I would write compositions so I could change those compositions. Or I'd have one artist solo in one piece and out of that piece we'd go to another, maybe never going back to what we started with."
Cherry stood out without showing-off in large ensembles including George Russell's big band ("George wrotes such difficult music, though," Don's said) and Haden's Liberation Music Orchestra (recorded once in the '60s by Impulse). A place of honor was reserved for him in Karl Berger's Creative Music Studio of Woodstock, New York, an outgrowth of the Jazz Composers Orchestra Association co-run by Carla Bley and Michael Mantler into the '70s. From those associations, and others, there are grand but hard to get, recordings. Cherry and Barbieri spire over all-stars blowing as Mantler conducts on the JCOA's "Communications #8"; Cherry is exotically beguiling on "A.I.R. India" from Bley's extravaganza Escalator Over The Hill also released on the JCOA label. Cherry's own Relativity Suite, another JCOA production, is a treat, lighter-of-heart than his Berlin-based Eternal Rhythm Orchestra, which introduced trombonist Albert Manglesdorf, pianist Joachum Kuhn, and bassist Arild Anderson to psychedelic electric guitarist Sonny Sharrock and metallaphones borrowed from Indonesian gamelan. By the '90s Cherry had seen the Himalayas, farmed in Sweden, taught college in New Hampshire, and settled finally in San Francisco, where he worked with Peter Apfelbaum, a former CMS students. Apfelbaum's Hieroglyphics Ensemble is a jazz fest of multi-culturalism, a big band realization of Cherry's ideal, embracing, perhaps popularizing and possibly enhancing a world of traditions without denying or dulling their distinctions.
Cherry's personal sound on his main instrument, the pocket trumpet, was fragile but intact. He leant his personal sound to efforts with Brazilian percussionist Nana Vasconcelos, tablaist Collin Walcott, sitarist Latif Khan, Turkish drummer Okay Temiz, Swedish pianist Bobo Stenson and reedist Lennart Aberg, Panamanian-born reedist Carlos Ward, South Africans-in-exile Johnny Dyani, Dudu Pukwana and Abdullah Ibrahim, heavy metal guitarist Steve Hillage and Todd Rundgren, Lou Reed (Bells), Ian Dury (Laughter). The list goes on and on. Cherry collaborated with filmmakers (Alexander Jodorowski, for one), dramatists (Robert Wilson), poets (Allen Ginsberg), dancers, rappers and his wife Moki, who's worked splendidly in fabric. He had a keen interest in education, initiating Swedish radio and TV series on music with chidren that were rebroadcast regularly, appearing in prisons and drug rehabilitation centers, in '82 receiving U.S. National Endowment of the Arts funds to present music workshops in the black L.A. community of his teen years, Watts.
Though Cherry recorded prodigiously, much of his prime work is no longer in print and scattered on labels that were hard-to-get even when his albums first appeared. For instance, Eternal Rhythm, from German MPS, was never issued Stateside. Producer Bob Thiele is unlikely to reissue Human Music, Cherry's interaction with Jon Appleton's synthesizer dating from his teaching days at Dartmouth College, which ended when he left the U.S. in disgust at Nixon's bombing of Cambodia. (The personal and political never seemed very seperate in Cherry's heart; it's said that when black activist Angela Davis was imprisoned in the '60s, love-struck Cherry played wood flutes under her cell's window every day). Brown Rice, one of Cherry's most admired mid '70s albums, was reissued on CD by A&M but that doesn't mean you can find it if you try. Tenorist Charles Brackeen's album on which Cherry is prominently featured ("Brackeen's the only one I think of who developed a concept out of Ornette's that went somewhere else," he's said) must have been pressed by the Strata label in the dozens. He complained he'd never seen Song For Biko ('79, Danish SteepleChase), on which he played full-sized cornet in quartet with Dyani, Pukwana and drummer Makaya Ntshoko, in record stores. Look hard for Live In Ankara (with drummer Temiz and two other Turkish modernists, recorded in '69 at the U.S. embassy) and Eternal Now (with a three-piano track and over-riding gamelan influence), both from Swedish Sonet. The two-record set Orient (Affinity, originally recorded by BYG) pairs an August '72 date of Cherry, Moki on tamboura and Han Bennink on drums with an April '71 trio featuring Dyani and Temiz; there's also Blue Lake with Dyani and Temiz, released by BYG on vinyl in Japan only the '70s, and readied for CD release by British Charly in early '98. Best of all: Mu, Parts 1 and 2 (Affinity/BYG), early '70s duets with Blackwell that are more intimate, lively, special than El Corazon from ECM in '82.
Due to Cherry's openness, charm and eclectism - in one interview he enthused over Stevie Wonder, Bob Dylan, Bob Marley, Linton Kwesi Johnson, dub poet Michael Smith, Earth Wind & Fire, Dionne Warwick, Gil Scott-Heron, the Bulgarian womens' chorus, Mexican mariachis, Pandit Pran Nath, Ravi Shankar and other Indian masters, Trinidadian pan player Boogsie Sharp, Calypso star Mighty Sparrow and singer David Rudder, flamenco artists, and he was just warming up - record producers often thought he could be a crossover success. Here And Now was Cherry's first outright commercial fusion foray in '76. Produced for Atlantic by Narada Michael Walden (he credited the Supreme for the crickets, and thanked Mother Nature for the Ocean's cameo) it boasted Michael Brecker, Marcus Miller and Lenny White among its players. That album received mediocre reviews and slight sales - at least it was issued. A follow-up tentatively titled Traveling Companion, featuring an all-original program that Cherry created in the studio with a band including his keyboardist cousin Ricky and violinist daughter Jan, never saw the light of day. Overseen by electronic music composer and Atlantic producer Ilhan Mimaruglu, the music included one of the polythematic, side-long suites which Cherry pioneered (for a full discussion of his achievements in that vein, see Eberhard Jost's Free Jazz, the only truly essential book on the subject). Said Mimarulgu in the studio out of Cherry's earshot after the suite was committed to tape, "While Charles Mingus is on Atlantic, only one jazz musician puts out side-long pieces." Two decades later, he reported that he'd listened to the tapes again, and found the music not to be of sufficient quality to merit issue.
Cherry's cross-over potential didn't suffer as he got older, and in fact, albums such as Home Boy hit the intended blend of fairly hip, quasi-chic international pop just about right. Less his pan-stylistic, one-world, open- to-trying-anything attitude confuses you, Cherry was a jazz man first and forever. Precedents for his basic style might include Henry "Red" Allen (notably for a blustery rather than Armstrong-brazen brass sound, jauntily unpredictable melodic streams, squeezed-off and/or half-valve effects and repertoire including novelty vocals) and (according to Jost) Chicago dixielander Wild Bill Davidson. Cherry said Louis Armstrong, Dizzy Gillespie and Roy Eldridge were always inspirations, and that, as well as Navarro and Clifford Brown, he'd listened to Harry "Sweets" Edison, Chet Baker and Miles Davis. The latter triumverate shared his dry, vibratoless tone and willingness to sound vulnerable. Whatever influence Davis exerted early on Cherry eventually turned the other way. In public Miles sneered, "Anyone an tell that guy's not a trumpet player - it's just notes that come out, and every note he plays he looks serious about, and people will go for that, especially white people." But when the Dark Prince sat in with Ornette's quartet at the Five Spot, according to Don, "He wanted to try the pocket trumpet and he played practically all night....After I played, Miles said, 'You're the only mother I know who stops his solo right at the bridge.' Then he tried it." Davis's post-In A Silent Way turn towards tablas, sitars, ethnic percussion instruments, etc. might have been coincidental or an example of nearly parallel development. But Cherry wore the multi-kulti garb much more naturally. He sought those musics out first hand. He loved them stronger, and probably first.
"It's important to me to be a part of world music, to meet and make music with the musical masters," he explained more than once, no doubt. "I feel free to play whatever I want to play, whether it's different styles of music, or classical, folk or devotional musics, or music that has aspects of all those three things - which I believe can co-exist - along with educational components. "I also want to be free to improvise forms - not only to improvise on the changes but to be creative enough to improvise new forms while spontaneously composing. But if you want to do that, it's important to play with other musicians who can do that, too."
Cherry had found such musicians in Ornette's circle of improvisers, and though he claimed, "I feel like a student trying to learn more about the harmolodic concept; I'm looking forward to the book Ornette's working on about harmolodics, because it's an endless study," he'd become one of that theory's most lucid professors. It's what he started speaking of on that now receding autumn day, and he continued on about it in a sort of semi-free association that seemed, itself, harmolodic. "Ornette's system is one of the profound systems of Western music," Cherry eased into his topic, "where you can have notated music and it sounds improvised. And the pureness of the intervals is what makes the brilliance of it swing. "To me, the word 'swing' in music is the sound. You know, we're all playing the same notes, but it's the sound that makes a special swing to it. Bird had that. And Coleman Hawkins, when you hear him - every note he plays swings.
"It's the attitude, too. Because in our system we have 12 notes. Now if I play, for instance, the C-natural, and I have in my mind that the C-natural is the tonic, the doh - I don't like the word doh, I'd rather use sah, because the 'ah' has more positiveness in sound - but if I think when I'm playing that C that it's the number one degree of the scale, I approach it a certain way. Now, if I take that same C and have it in my mind that it's, say, a minor third - same note - well, with my mind and feeling and knowing intervals and what it is, it's another sound. Even though it's the same note. "I take that same note and started thinking of it as a major seventh, the one that always resolves. . . . What I'm saying is that every one sound has 12 sounds in it. And once you realize that, then you have control of the sound, getting it to be what you want it to be.
"With Ornette's concept harmolodics, and harmolodic unison, it's sort of like that. You can be playing in one key and I'm playing in another key, and it comes out unison because even though my doh, or one degree, is another note, it's still playing the part of doh. Each degree of the melody is relative in another key. They're both playing the same part even though they're different notes. "Same like that thing of swing being the sound; that's really incredible. When I was in Africa I realized Blackwell has that in his playing; how he tunes his drums is how the real master drummer playing a Western trap set will tune his drums. Blackwell tunes so each drum is independent and has a part to play about intonation, pitch. When he's playing he can sound like 10 drummers, because each drum as it's tuned can sound like a different person. In African you have 10 drummers, each with their own drum, and playing together they make the rhythm. Each of Blackwell's drums plays a part in relation to the whole sound of the rhythm. That's where it's coming from.
"Me myself, I'd rather play the conch than the trumpet, even though you generally can have only one tone on the conch, you know. The physics of the conch makes it something that absorbs sound and gives sound out at the same time. You can have a drill playing and you play the conch shell next to it, and the conch will absorb that sound, drown it out at certain points. "And the conch is one of the natural instruments using the emboucure. The emboucure is the real instrument within itself. You get different textures of it with horns like the elephant tusk trumpets they use in Africa. That sound is something special to me. What I'm really into is just the horn itself, without the valves, the rotary of the trumpet.
"Once you start using the valves, you realize they're auxiliary fingering, and trumpet players are usually playing up and down and down and up, but there's a way that the trumpet can be brought out in intervals, like you have in bugle calls. I'm very much interested in all that. "I realize all these things, but I realize most of all that the trumpet to me is an amplifier of the voice. That's the way I want to approach it. Also, I think of it as a form of nature, or dance and movement. Where I'm playing phrases, or maybe something chromatic, I'm not trying to show technique as a virtuoso, I'm thinking in relation to movement or maybe nature and wind, how the trees are blowing. In terms of dance, because dance is always an important part of music. Dance and movement and the sound of the voice are very important, no matter what type of music I'm playing.
"It's all really an extension of those things for me. I always considered the piano keyboard in relation to composing, and you have the harmonies there in which to hear the other voices. The doussn' gouni is something that happened in my life - I guess it was inevitable from being around ethnic music, but at first I was lucky to be around Western musicians who had been to Africa and the East to study, such as the Swedish musicians Christian Botine and Bernt Berger. Between them they'd studied in Ghana, and India, and Morrocco. Then I went on in that music to learn the right way, went to India myself, meting masters while I was traveling, studied with them in Europe or when we met wherever we were in the world. "A lot of musicians just want to play exotic music. They hear the sound, but they don't want to really learn the rudiments of it all, the foundations of certain musics. Indian music for instance. You have to go there, really.
"As far as us - Ornette, Dewey, Charlie, Blackwell, Albert Ayler and Cecil Taylor - being classifed as free jazz, avant-garde musicians: everybody thinks we don't have any training, don't know about chords, can't play standards and just play anything, whatever we feel. But that's not true. Ornette's music has been notated music. We all know the standard repertoire of jam sessions, the standard forms, 'I Got Rhythm,' 12 bar blues, songs like 'All the Things You Are,' 'A Train,' Count Basie's approach, Monk's tunes. These are the foundations of jazz music. "You've got to realize that in bebop, Charlie Parker, Dizzy Gillespie, Bud Powell and Fats Navarro all had a concept of playing 7ths that swung and was their thing. Thelonious, he was more what harmolodic is. He would ring the piano and he had his own approach, and it wasn't about technique. It was more about pureness of sound.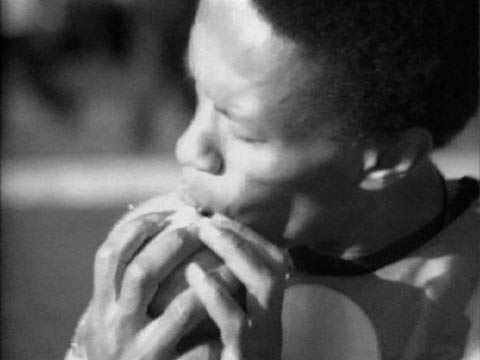 "In the Western system of music some people get into where the technique is the main thing, and audiences, that's what they applaud. It's like some people confuse technique with professionalism. I hate professionalism. I've been a professional musician long enough, and have shown I can do it. But professionalism becomes a religion in certain quarters, and to me, there's more to religion than that. "Anyway, Ornette, he has that, too - phenomenal technique. We used to play 'Donna Lee' like wheeeee! and it would swing, because we had control of technique. To me, when you play something fast, you should think slow, and when you're playing something slow, you think fast. But I don't put people down for having technique, because it's important. The discipline of practicing, always practicing, and bettering, having control with the technique - that's important, too.
"I practice. I practice compositions. I've studied Turkish music, which is very technical, and fuevos, Brazilian songs of a certain form; I practice what I found in them. The jazz compositions I used to know, Charlie Parker's things, I go back over them again, because I haven't played them in a long time. I practice Ornette's compositions; learning one of his is always good for technique. "And long tones - in relation to the trumpet, you have to keep that. If you lose it, man, if you start taking music for granted, or take playing music for granted, you take away from yourself. I've seen that happen. It's like they say in India: 'A life is not long enough to learn music.'"
If no one lives long enough to learn music, Cherry lived plenty long to pursue it, practice it, and gain some hints he might pass on. It was his experience, as it was his parents', that his offspring were musical. Did he hear his music in his stepdaughter Neneh's? "Well, it isn't my music," corrected Cherry. "Music doesn't belong to anyone. We come to music. Her music is her experiences; it happens I'm a part of it, because we travelled together, I helped raise her, she is my daughter because we had that relationship together. But I never pushed her in music; she always had the talent. Her father, who's from Sierre Leone, is a musician, and she's had contact with his family. I'm very proud of her, and of Jan and my son David, too, and their youngest brother Eagle Eye who's acting and also playing drums.
"But yes, I like the music Neneh makes, because it makes me feel to dance, and I love to dance. And she's going to be around for a long time." Besides music, Don Cherry believed in the pleasure principle, and all this made him happy.
--------------------------------------------------------------------------------
This appreciation first appeared in The Wire; it draws on interviews and other material originally conducted for Down Beat and National Public Radio.
--------------------------------------------------------------------------------
Howard Mandel
Howard Mandel is a freelance writer living in New York City, and president of the Jazz Journalists Association; his book Future Jazz is coming in May 1999 from Oxford University Press.