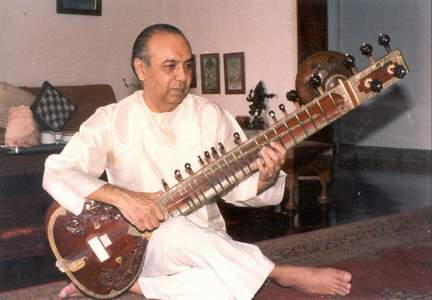 From
ITC Sangeet Research Academy
:
Arvind Parikh is amongst India's leading sitarists, with a performing career spanning over six decades. He is the senior-most disciple of the late Ustad Vilayat Khan, the great sitar maestro of the Imdad Khan/Etawah Gharana of sitar and surbahar music.
Parikh is an unlikely maestro, because he is much more than a musician. He has the sole distinction, amongst contemporary musicians, of commanding as much respect in the world of music as in the world of business. He is also an incisive musicologist, a dedicated teacher of music, an eminent cultural ambassador, and a veritable power house of initiatives aimed at promoting the interests of Hindustani classical music within India and abroad.
As a musician, Parikh is an original product of the Vilayat Khan's tradition and style. His idiom is biased in favour of the soulful and contemplative aspect of music. Its emphasis is on musicality as the essence of musicianship rather than intimidating virtuosity. These qualities have won for Parikh, critical acclaim and the respect of the cognoscenti in India and abroad. He has been featured at almost all major festivals of music in India and in Europe, and has had very successful concert tours in several parts of West Asia, Far East and Australasia.
His appointment as a Vice President of International Music Council (UNESCO) for the period 1994-97 and his current position of Co-ordinator for the Indian sub-continent, are indicative of the respect that Parikh commands all over the world.
Parikh has been awarded the Gaurav Puraskar for the year 1997-98 by the Gujarat State Sangeet Natak Academy. He has also been awarded the National Award by Sangeet Natak Akademi for Instrumental music (sitar) for the year 2003. Parikh conceived the unique idea of establishing a Forum at which all segments of the music world could meet to discuss issues of common interests. Music Forums are established in Mumbai, Chennai, Kolkata and Delhi.
In his capacity as Trustee/Director of ITC-Sangeet Research Academy, Parikh is the Chairman of its Western India Chapter. Parikh also has the distinction of being the President of Indian Musicological Society (IMS) - recognition of his insights and contributions to the field of musicology in Indian music.
<<<=======>>>