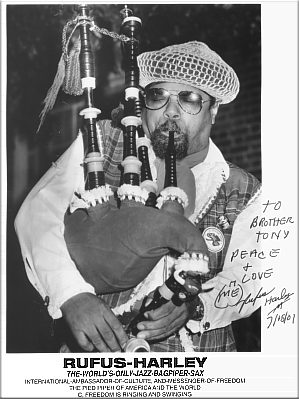 Wikipedia Bio

Rufus Harley, Jr. (b. near Raleigh, North Carolina, May 20, 1936; d. Philadelphia, Pennsylvania, July 31, 2006) was an American jazz musician of mixed Cherokee and African ancestry, known primarily as the first jazz musician to adopt the Scottish great Highland bagpipe as his primary instrument.

Although born near Raleigh, North Carolina, at an early age Harley moved with his mother to a poor neighborhood in North Philadelphia, Pennsylvania. He began playing the C melody saxophone at age 12, and also played trumpet. At the age of 22, he began studying saxophone, flute, oboe, and clarinet with Dennis Sandole (1913-2000), an Italian American jazz guitarist who also taught several other Philadelphia jazz musicians.

Harley became inspired to learn the bagpipe after seeing the Black Watch perform in John F. Kennedy's funeral procession in November 1963. Then a maintenance worker for the Philadelphia's housing authority, Harley began searching the city for a set of bagpipes. Failing to find one, he traveled to New York City where he found a set in a Jewish-operated pawn shop. He purchased the instrument for US$120, quickly adapting it to the idioms of jazz, blues, and funk. On several occasions, when a neighbor called the police to complain about Harley's practicing in his apartment, he would quickly put away his bagpipes and feign ignorance, asking the officers, "Do I look like I'm Irish or Scottish to you?" He eventually acquired a better set of bagpipes, which cost him a little over US$1,000.

Harley made his bagpipe performance debut in 1964. From 1965 to 1970 he released four recordings as leader on the Atlantic label (all produced by Joel Dorn, an early supporter), also recording as a sideman with Herbie Mann, Sonny Stitt, and Sonny Rollins in the 1960s and 1970s. He later recorded with Laurie Anderson (appearing on her 1982 album Big Science) and The Roots (on their 1995 album Do You Want More?!!!??!), the latter coming about due to a 1994 appearance on The Arsenio Hall Show. In addition to bagpipes, on these albums he also occasionally plays tenor saxophone, flute, or electric soprano saxophone.

Harley often wore Scottish garb, including a kilt, in conjunction with a Viking-style horned helmet. After seeing him perform on television, a Scottish family gave him his tartan, the MacLeod tartan, which he wore for the rest of his life. His bagpipe technique was somewhat unorthodox in that he placed the drones over his right shoulder rather than his left. He favored the key of B-flat minor.

Harley lived for much of his life in the Germantown neighborhood of Northwest Philadelphia, Pennsylvania, and frequently gave presentations in Philadelphia-area public schools. During his frequent overseas performance tours, he carried and distributed miniature replicas of the Liberty Bell, the symbol of his hometown, as well as American flags and copies of the U.S. Constitution. He appeared on a number of television programs, including What's My Line?, To Tell the Truth (March 22, 1965 and again c. 2000), I've Got a Secret (October 17, 1966), and The Arsenio Hall Show. He also had a small role in Francis Ford Coppola's 1966 comedy film You're a Big Boy Now, as well as Eddie and the Cruisers (1983). In addition to his performing career, he worked for the Philadelphia Housing Authority for many years.

He died at Philadelphia's Albert Einstein Medical Center on July 31, 2006 of prostate cancer.[8] He is survived by his former wife Barbara Jean Jones, 16 children, and 15 grandchildren. One of his sons, Messiah Patton Harley, also of Philadelphia, is a trumpeter who often performed with his father.

A new documentary film entitled Pipes of Peace, an intimate profile of the late Philadelphia musician, directed and produced by fellow Philadelphian George Manney, was released by Brotherly Love All-Star Tour productions in 2008.

A posthumous retrospective on Rhino Handmade, Courage - The Atlantic Recordings, was released in November of 2006 as a 3,000 copy limited edition, and contains all the tracks from his four Atlantic LPs, plus an unreleased track of Pete Seeger's composition Where Have All the Flowers Gone?.




Rufus Harley: Pipes of Peace

Rufus Harley
Pipes of Peace
Produced and directed by George Manney
A Brotherly Love All-Star Tour Production
2007


Rufus Harley (1936-2006) was a supreme individualist. He started out as a very competent reed player—on soprano, alto, and tenor sax, as well as the flute. He studied with Dennis Sandole, a supreme teacher, who sired the Coltrane generation of Philadelphia-rooted musicians. Then the desire to be unique took hold of him. He mastered the bagpipe (!), and made four very successful LPs for Atlantic Records, contributing to his world-wide renown. Then he came out with a message of peace, love, the unity of all peoples, and the love of America. In his unusual attire, he gave replicas of the Liberty Bell to such celebrities as Bill Cosby and Ed Rendell. Giving up the things of this world, he took to the streets of Philadelphia, where he could often be heard playing for the workers in Center City. In effect, he became a sort of latter-day saint.

George Manney, a filmmaker and musician, has produced a film telling the story of the colorful bagpiper and individualist, with conversations with Harley, as well as recollections by Kenny Gamble, Laurie Anderson, Byard Lancaster, and many other musicians, along with film footage from Harley's performances. The result is a heartwarming portrayal of Rufus Harley, the man and his music, that will etch the memory of the bagpiper firmly in the consciousness of anyone who views the film. Manney captures all the color, sound, and words of an era when a person could dare to be who he really was, without the social mask, and in the process convey a philosophy and a message.

What makes Harley credible and not just a "weirdo" is that he was a true jazz artist. He turned the bagpipes into a jazz instrument that could match the best of the reed players. (Unfortunately, this achievement is so difficult, that practically no one since has dared attempt it!) He really swung in the bebop and hard bop traditions, and could fit in with any of the top jazz ensembles of the time. But his true purpose in life became that of a good-will ambassador and an avatar of peace.

Was Harley a weird eccentric or a legend of jazz with a powerful message for the world? That will have to be the viewer's call, after weighing the evidence. Watching this film will assure knowledge and understanding of the human phenomenon known as Rufus Harley.

Production Notes: 53 minutes. Color and stereo sound. Formatted for Worldwide distribution. Interviews and commentary by Kenneth Gamble, Laurie Anderson, Stephen Caldwell, Joel Dorn, Odean Pope, Byard Lancaster, Tommy Conwell, Stewkey, Charlie Gracie, David Ivory, Dee Dee Sharp, Messiah and Noah- Harmony Harley, Charlie Gracie Jr. and Josh Yudkin. Cameo appearances by Pat Martino and Gov. Ed Rendell.