Tracklisting:

01 Circumstancial Evidence
02 Status Symbol
03 Inquire Within
04 The Weight of Remorse
05 Fact or Fiction
06 Syncopated Synthetic Laments For love
07 Highly Enlightened
08 Blind Leading The Blind
09 Of Epic Proportions
10 Instrumental

From Ebullution Records:

This amazing Northern California emotive hardcore band has once again crafted a full length of powerfully intense and melodic songs to charm your body into a gyrating flurry of motion. The two guitar, duel vocal sound is relentless and pulsating with energy and emotion. A total of ten tracks packaged in a beautiful gatefold jacket with a design reminiscent to their last 12" record. A great record.

There were 125 pressed on blue vinyl.
There were 525 pressed on white vinyl.
There are also two different sets of labels.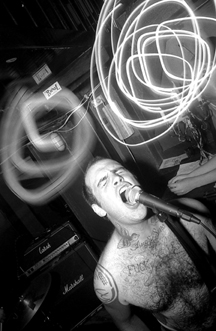 Delusions of Adequacy review by Jeff Marsh:

As far as hardcore bands go, you don't get any better than Yaphet Kotto, in my opinion. Their first album, The Killer Was in the Government Blankets, should be required listening for any fan of driving, powerful, emotive hardcore, and Syncopated Synthetic Laments for Love picks up perfectly where its predecessor left off. The band, formed in the Bay Area of California in 1996, plays incredibly tight, driving hardcore and sings their lungs out about their political and social ideals, the way hardcore was meant to be played.

Two vocalists mix perfectly, shouting/screaming their vocals in a way that's still decipherable, something many hardcore bands don't do. One singer has a high pitch, the other low, and they mix throughout. The double-guitar attack is powerful and driving, the rhythm fantastic and tight. But what makes Yaphet Kotto best is their breakdowns and their incorporation of melodic moments. Their songs slip into quieter, moody interludes of guitar and bass and occasional vocal samples, before exploding again into sound that's all the more intense after the quiet.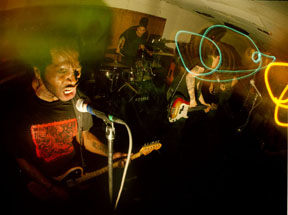 The opener, "Circumstantial Evidence," kicks off after a squeal of feedback, breaking immediately into the powerful rock, with those high-pitched shouted vocals ripping over driving guitar and a perfect rhythm. By the end, the song breaks down into a low, bass-filled moment, and then explodes again. Other songs are just straight-ahead power-rockers, with "Status Symbol" and "Fact Nor Fiction" just all-out hardcore rock, kept cohesive and tight with the band's amazing rhythm section. "Inquire Within" gets about as fast and angry as any Yaphet Kotto song I've heard, but it also quiets down, with sung vocals over a slowly booming drum beat and feedback-laden guitars. The best sort of old-school emo sound comes in on the moody "The Weight of Remorse," with great spoken word vocals over bass-intensive rock, and after another fast part, it breaks down again, proving this one of the most intense and stellar songs the band has recorded. The guitar here is just brilliant. "Fact Nor Fiction" shows the band mixing in angry recordings over moody music as used on their first album.

The second side of this release is pure genius, and it gets a bit more personal in nature as opposed to political. There's no less the intensity, however, as the title track kicks it off with blistering guitars and those fantastic shouted vocals, then breaking down into a quiet, pretty moment, that explodes into intensity again. Bits of religious sentiment come in with vocaled samples behind driving rock on "Highly Enlightened," as a sarcastic dichotomy perhaps. Again there's a stellar breakdown to end "Blind Leading the Blind," and then the more punkish and driving "Of Epic Proportions" kicks in with a fury. There's some incredible, almost groovy rhythm here, done so fast and powerful you've got to listen close. And the whole album closes with an incredible instrumental that's slower, more melodic, and more moody.




The band includes their lyrics, which closely shows their political bent. In "Circumstantial Evidence," they sing, "and I'm troubled by the question who'll kill man / needless to say from our action answers have been made clear / what's the protocol with my pride in the struggle / I pose a threat against the ruling class in the interest of whom are many lives lost / in the interest of whom take part in your war / fuck you no thanks I won't fight."

Incredible stuff: powerful, political, and impeccably tight hardcore. This is what it's all about. I can't listen to this album without being continually amazed by this band. Pick of the week? More than that, this will be an album of the year. Currently, this and the band's first album are only available on vinyl, but CD versions of both are expected on Ebullition shortly.