All of the info below comes from this site: www.thearraymbira.com:

The Array is a modern system of note placement recently invented in the U.S.The Mbira is an ancient acoustic musical instrument that is steeped in the tradition of Zimbabwe. Array Instruments has combined the two to bring you a fabulous hybrid musical instrument, the Array Mbira.

No other instrument may be learned so easily initially or be subsequently pursued to such an advanced level of performance




Bill Wesley - Musician & Inventor

Bill Wesley was born into a family of scientists, artists, and writers. In this lively intellectual atmosphere he became interested in a wide range of both scientific and artistic subjects. In the 1960s he began to produce shows featuring live musical composition and live visual animation. To facilitate better sound and light in these shows he designed various new types of instrumentation. In this spirit the array system of note arrangement was conceived and first applied to the Mbira. Subsequently a midi controller was developed and patented under the name The Sensor Array Midi Controller. Bill continues to invent new forms of visual and sonic instrumentation and to perform live, often with the Sound and Light Ensemble.




From youtube:

Bill Wesley playing an incredible instrument that he invented made of tuned nails, its called the Nail Violin

opening for the OPEN DOOR ORCHESTRA
at studio BLUE 2007

Produced By Shannon Michael Terry
Live recoding: Keith Jones
Mixed: Keith Jones
Projections: Vj Fader
Camera: Ron Hulme,
Camera: Tosha Hales
Video editing and titles: Greg Bernstein



Live at Scolari's Office 02-17-07



The Star Spangled Banner

Bill Wesley, inventor of the Array mbira, plays the Star Spangled Banner on one of the 5 octave models designed and created by Bill Wesley and Patrick Hadley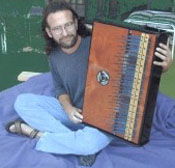 Patrick Hadley - Musician & Craftsmen

Patrick Hadley has over 25 years of woodworking experience as well as being an accomplished musician and composer. He has recorded two albums on the Abracadabra label and produced a variety of original soundtracks for numerous videos. He is an artist in all that he does, from the design and creation of custom homes and unique landscaping to composing, recording and performing original music. He states, "When I was first introduced to Bill Wesley and his Array Mbira, I knew that I had found the ultimate way to blend my greatest passions, music, artistic design, and exquisite craftsmanship. It was natural for me, and the perfect way to bridge my musical interests with my desire to create in a 3-D medium. It is an honor and a privilege for me to personally be a part of the design and creation of every Array Mbira".




From youtube:

A Simple Song by Patrick Hadley



Jazz improvisation on a 5 octave Array mbira



Many different types of people play the Array Mbira. Like the piano or guitar the Array Mbira is used by both amateur and professional players and is played in a wide variety of musical styles. Amateurs find that the Array Mbira is less threatening to learn while professionals are able to achieve performances not possible with other instruments; the Array Mbira constitutes an advantage to anyone who enjoys making music.

Imogen Heap

Performing live with the Array Mbira and will be featured on her next album

Shannon Terry

Performing live with the Array Mbira in the Open Door Orchestra (ODO).

Patti Broussard

Great pianist and flautist, she has examples posted on You Tube of Mbira playing.

Emil Richards

Owns the world's largest collection of percussion instruments.

Coppé

Great artist from Japan. Coppé has great electronic beats and vocals

Mileece

Exploring the beauty of nature and environmental issues, a great artist from the UK.

Ry Cooder

Ry Cooder has composed soundtracks for more than twenty films.

Pharaoh Sanders

Sanders is highly regarded to the point of reverence by a great many jazz fans.

Karen Pálsdóttir

The youngest Array mbira player, grew up in Iceland now living in the USA

Kaki King

Well-earned status as the zeit-girl of instrumental acoustic guitar.

Kelli Rudick

Great artist from Brooklyn NY. Great acoustic guitarist, mbira player, and more.

Saggio

A member of the International Native American Flute Association.