All the info provided on this compilation of reggae artists can be found here

Volume 1:

01. Oh Me Oh My - Jerry Jones (2:26) Coxsone 7"
not the Bree Daniels/Lee Perry song, but I still dare you not to sing along.




02. Still In Love - Doreen Schaffer (3:21) Coxsone 7"
sweet sweet sweet, an original singer for the Ska-talites (still going)

03. Let Me Be Yours Until Tomorrow - Marcia Griffiths (3:22) Money Disc 7"
The Empress of the I3's flying solo

04. Go On Home - Norma Wright (2:57) Coxsone 7"
I don't know anything about Mrs. Wright (Charles' wife?) but this cut is just wonderful...and dig the slide guitar lead giving the track a hawaiian feel.

05. Still In Love Pt.2 - Doreen & Alton (3:14) Coxsone 7"
Mrs. Schaffer with Alton Ellis, this is the version version of this version.

06. Tops Of The Pops - The New Establishment (2:54) Top Disc 7"
This is the b-side dub version of "Top Of The World" single, you may be familiar the Carpenters version.

07. Words - Jeff & Marcia (3:21) Coxsone 7"
Mrs. Griffiths again, with I assume maybe Jeff Dixon?

08. Working - Marcia Griffiths (2:29) Bamboo 7" from 1969, according to the notes I got with these this is miscredited on the actual label as being Norma Frazer, tis really the hardest working worman in Kingstown

09. Feel Like Jumping Pt.2 - Marcia Griffiths (3:46) Coxsone 7"
yeah, I know you probably have this...but it's the dub version and just in case you don't

10. My Baby - Marlene Webber (2:01) Bamboo 7"
Bam33 from 1970, uptempo rocker and like most all Bamboo singles produced by Coxsone Dodd

11. Tell Me Now - Marcia Griffiths (2:12) Money Disc 7"
This was also on the Dreamland album




12. Tell Me A Lie - Pansey Scott (2:40) Top Disc 7"
She's the singer on the New Establishment Top Of The World dub above, anyone have any further info?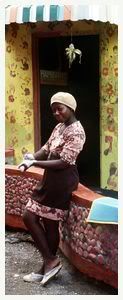 Volume 2:

01. Angela Prince - My Man Is Gone (2:34)
Studio 1 7" SO 0025A

02. Angela & Soundemension - My Man Version (2:34)
Studio 1 7" SO 0025B

03. Cherry Ann - Tell Me Something Good (2:35)
Money Disc 7"

04. Claudette (Nana) McLean - Give Love Another Try (3:00)
Studio 1 7" FCD 7808A (SO 3170)

05. Dawn Penn - You Don't Love Me (3:06)
Coxsone 7"

06. Della Humphrey - Dream Land (2:34)
Coxsone 7" DSR-CN-5513-1

07. Denise Darlington - War No Right Pt.1 (2:19)
Studio 1 7" SO 0075A

08. Denise & Sound Dimension - War No Right Pt.2 (2:18)
Studio 1 7" SO 0075B

09. Doreen Scheafer - This Love (3:46)
Studio 1 7"

10. Doreen & Brentford Disco Set - This Love Version (3:39)
Studio 1 7"

11. Doreen Scheafer - Sugar Sugar (2:41)
Studio 1 7" SO 0092A

12. Doreen & Soul Vendors - Sugar (Ver.) (2:45)
Studio 1 7" SO 0092B

13. Doreen Shaffer - Ain't Gonna Change My Mind (3:01)
Studio 1 7" DSR 9138A

14. Doreen & Sound Dimension - Ain't Gonna Change Pt.2 (3:00)
Studio 1 7" DSR 9139B

15. Elaine Monteque - Hurt So Good (2:59)
Sight N Sound 7"

16. Enid Cumberland - Town & Country Cafe (2:57)
Sight N Sound 7" FCD 7354A

17. Marcia Griffiths -Truly (3:05)
Coxsone 7" SO 0068A

18. Marcia & Soul Vendors - Truly Version (3:09)
Coxsone 7" SO 0068B

19. Marcia Griffiths - Let Me Hold You Tight (2:10)
Coxsone 7" WIRL CS 3979-1

20. Myrna Hague - What About Me (3:18)
Studio 1 7" SO 0095A




21. Myrna & Brentford Disco Set - What About Me (Ver.) (3:20)
Studio 1 7" SO 0095B

22. Nana McLean - Soul Respondent (3:53)
Studio 1 7"

23. Norma White - I Want Your Love (3:41)
Studio 1 7"

24. Pam Reid - Mysterious You (3:18)
Studio 1 7" RMM 1257A

25. Pam & Sound Dimension - Mysterious Version (3:23)
Studio 1 7" RMM 1257B

==================

Marcia Griffiths - When Will I See You Again



Marcia Griffiths - Band Of Gold



Bob & Marcia - Pied Piper